Much like its neighbors to the east and west, Campbell county rests on a geographical border between the Cumberland plateau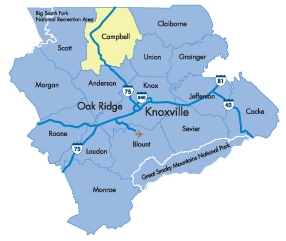 and the ridge-and-valley section of the Appalachians.The northern portion of the county resembles Eastern Kentucky, with the southern portion being more alike to the rest of East Tennessee.
Challenges
Campbell county is classified as distressed by the Appalachian Regional Commission. While this means the county is facing certain challenges at present, it also means it qualifies for certain grants.
According to the U.S. Census & the TN Dept. of Labor & Workforce Development:
Roughly 1 in 5 people (23.2%) currently live in households with income below poverty level
The unemployment rate in 2015 was 8.1% (compared to the state rate of 5.8%)
Opportunities
While similar to Scott and Claiborne counties, Campbell is not quite so isolated, due to Interstate 75. In addition to sharing Norris Lake with Union county, numerous parks and wildlife management areas dot the landscape, giving it a fairly robust tourism economy, on both land and water. Of the many things which make Campbell county unique, one of the most intriguing is the story of Delap Cemetery, a Civil War cemetery almost lost to history until 2002.
Beautiful Campbell county is a stalwart of our region.